Welcome to the Helix delta-T Conveyor Design Program - an essential tool for engineers, contractors and plant operators to quickly and easily optimise Conveyor system designs. This program includes features:
Tension and Power Calculations
Equipment Selection from Databases for Belts, Idlers, Pulleys & Shafts, Gearboxes, Motors, Fluid Couplings, Brakes etc.
Draw a sketch of the conveyor Profile and also view a scale drawing and a 3D line model of the conveyor
Calculate Vertical Curve radii and super-elevation (banking) angles for Horizontal curves
Calculate using CEMA, ISO 5048 or the Viscoelastic method for low resistance rubber belts
Add any number of Conveyor Pulleys, Drives, Loading points, Trippers, Brakes etc.
Create pdf Reports and view directly in the browser or save
Copy and Paste Raw data directly into a spreadsheet
Create and download an excel .csv Conveyor Comparison List comparing multiple conveyor files
Helix delta-T has been used as the design tool and proven in many thousands of real conveyor installations in more than 25 countries around the world since 1991. The latest version Helix delta-T Online brings you even more power and flexibility in your conveyor designs.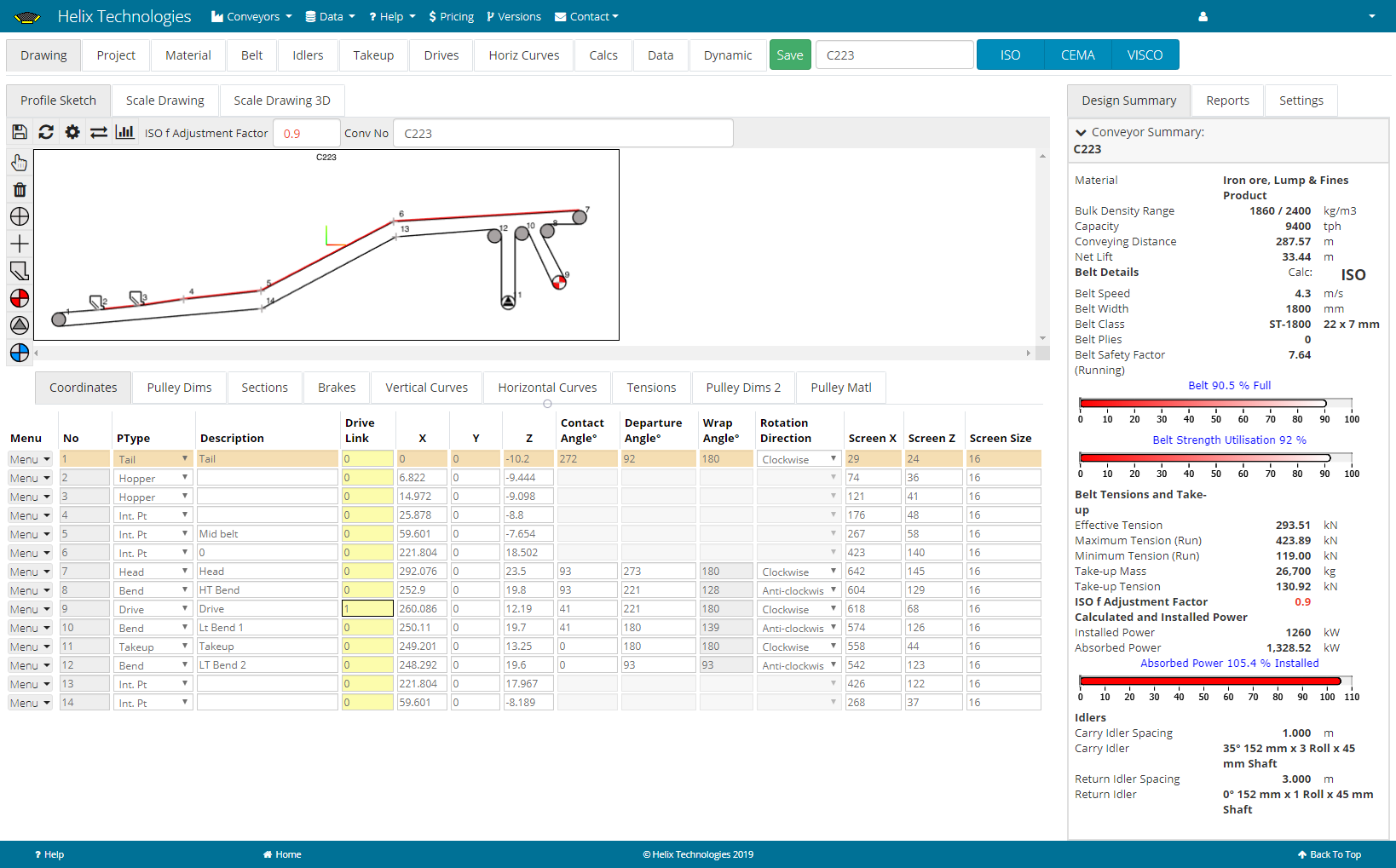 Build your conveyor model from scratch or import a conveyor line from another file type.

Perform static or dynamic calculations and view and download reports

Retrieve data from our databases for equipment and materials quickly and easily

Store and Share your conveyor models online easily and securely

---

Build your conveyor from scratch in on a drag and drop canvas by selecting the node and entering it's x, y, z coordinates.

Copy and paste conveyor x, y, z coordinates from a spreadsheet directly into your Online Conveyor File or upload an existing Helix delta-T6 .xml Conveyor design File

Use one of our Demo Conveyor Models as a template to get you started. Just Copy the file and rename it.

---

Calculate with the ISO, CEMA and Viscoelastic calculation methods

Determine belt tensions at all points along the conveyor, drive traction, take-up weights, starting and stopping times and more..

Generate reports including Belt tensions, design, take-up and Drive traction, resonance, starting and stopping, vertical and horizontal curves, equipment and pulley reports.

Instantly view or download reports in .pdf format.

View bar and line graphs of belt tensions at each point under different loading conditions and running states to quickly and easily understand the conveyors behaviour

---

Use our extensive equipment databases for quicker design or to auto select equipment. Our Databases include:


Belts
Brakes
Fluid Couplings
Gearboxes
Holdbacks
Idlers
Materials
Motors
Pulley Shafts
Pulley Shells
Pulley Widths
Shaft Couplings
Starters

Save your own equipment in your own database for use in other conveyors

Consolidate your companies equipment into your own private databases

---

Store all your conveyor models online in your own database

Give another user permission to view or edit your conveyor for project collaboration

Give another user ownership of the conveyor document


Lets have a look at a few demo files
| Demo 02 - C223 Iron Ore Loadout | Demo 06 - C344 10km Overland Conveyor |
| --- | --- |
| This Demo shows a basic conveyor layout and is a good starting point to familiarise yourself with the program | Overland conveyor 10km long with 2 drives and Brake |
| | |
| Download Report View Demo | Download Report View Demo |
| Demo 12 - C3 Overland Coal 21km | Demo 08 - C212 Stacker Reclaimer |
| This Demo shows a very long overland coal conveyor with 5 drives and a brake. This is a good demonstration of the Viscoelastic calculation method and is an advanced conveyor design. | 880m Long 9400tph capacity Stacker Reclaimer with vertical curves and tail brake |
| | |
| Download Report View Demo | Download Report View Demo |
---
---
Draw your Conveyor
Select a Pulley, Int. Point, Hopper, Drive, Take-up or Brake from the menu and click where you want to add it then enter the co-ordinates or import a conveyor from a Delta T6 .xml file or Copy and Paste x, y, z coordinates from a spreadsheet.
---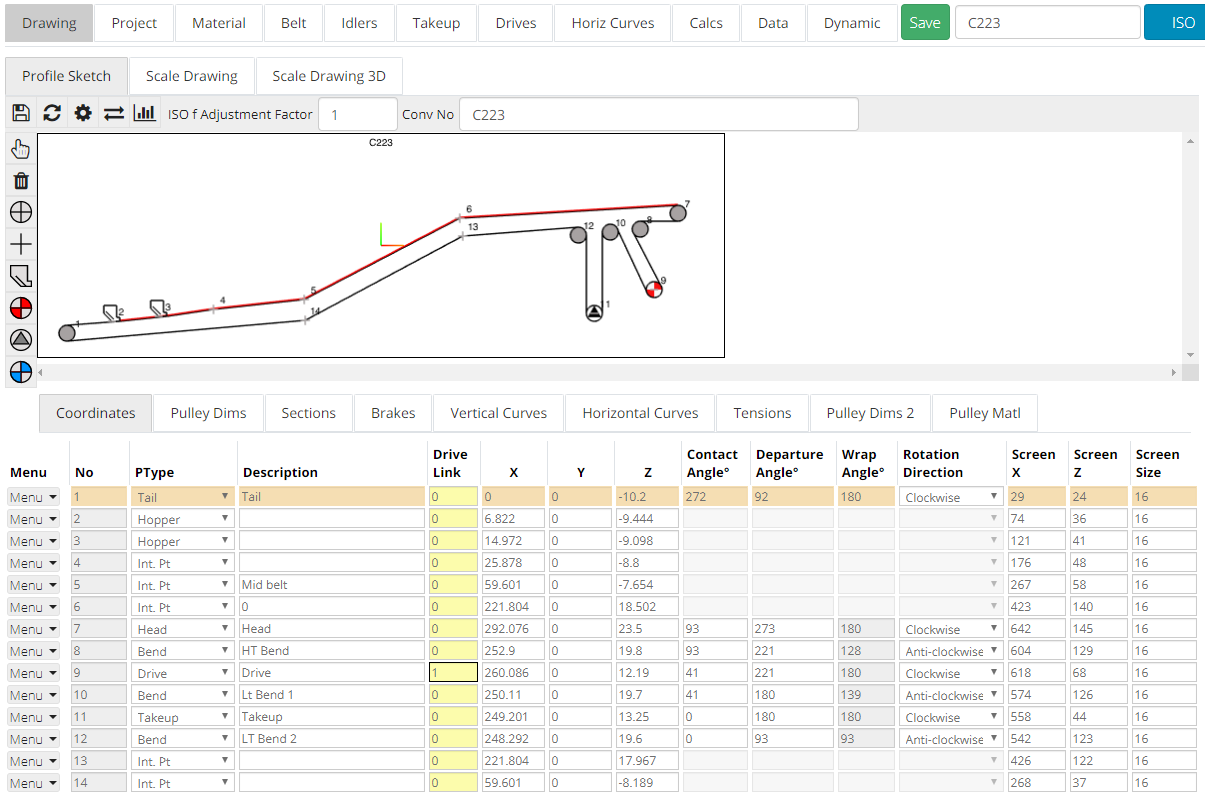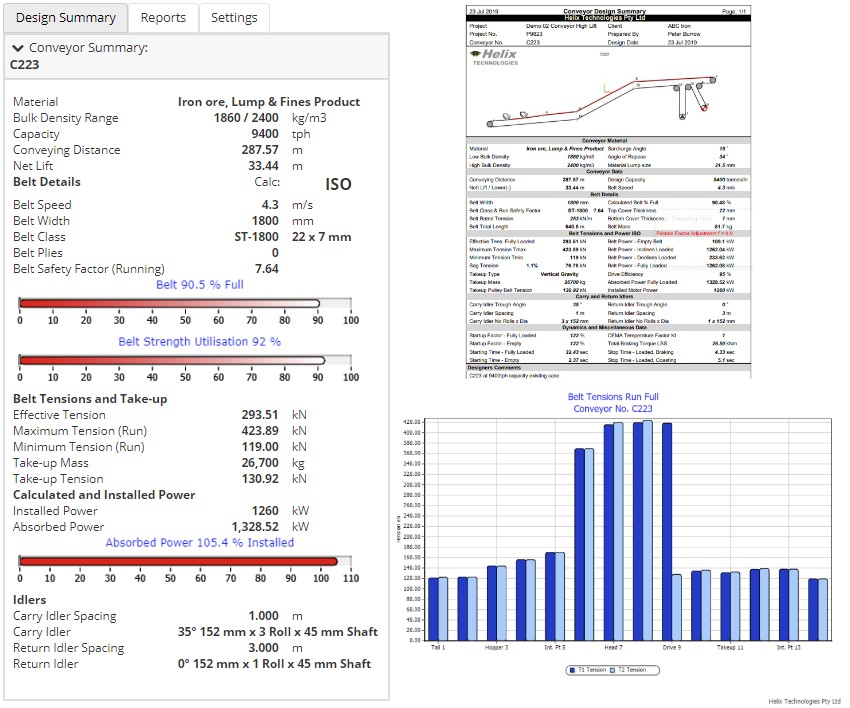 ---
Calculate and View Reports and Graphs
Calculate your conveyor using the ISO, CEMA or VISCO methods. View Graphs of Belt tensions and multiple reports.
---
---
Calculate and Optimise Vertical and Horizontal Curves
Determine the optimal Vertical and Horizonal Conveyor Curve Radii
---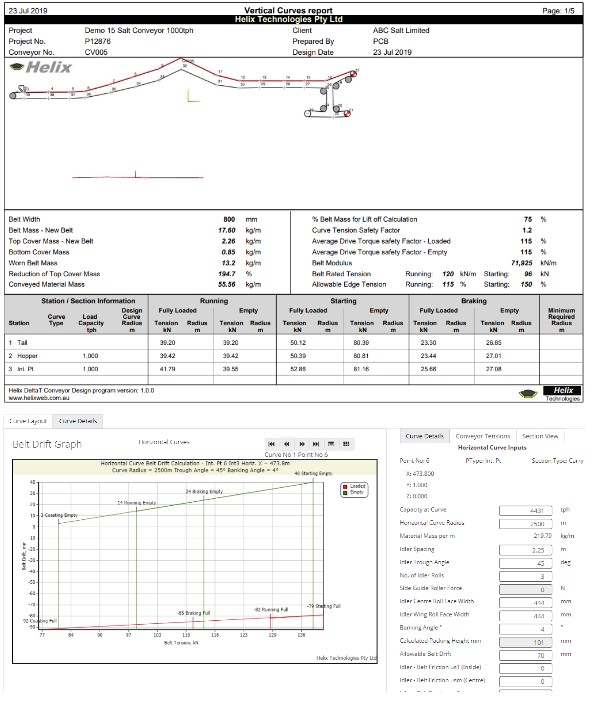 Helix DeltaT Online Versions Comparison




Standard

Professional

Dynamic

Number of Conveyor File Storage
Starts at 100
Starts at 100
Starts at 100
Capacity
Capped At 1000 tph
Unlimited tph
Unlimited tph
Number Of Drive Pulleys
One
Unlimited
Unlimited
Number of Sections, flights, pulleys
Unlimited
Unlimited
Unlimited
Static Analysis
Horizontal Curve Design
Dynamic Analysis

Get optional Support and Additional Conveyor File Storage Addons
For more details on calculations see the Online Help topics